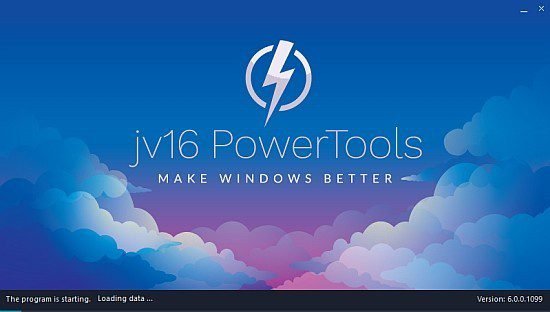 jv16 PowerTools Portable is the ultimate Windows Optimization, System Cleaning and Error Fixing Utility Suite. The program allows users to remove hidden traces of previously uninstalled software, to clean the Windows registry for optimal performance and stability, and to fix many registry-based problems with a single mouse click. jv16 PowerTools optimizes, repairs, and maintains Windows based PCs making them running fast, safe, and free of problems.
This suite containing 33 different tools. Each of these tools is carefully crafted with the experience of over 15 years of Windows utility and registry cleaning experience to form a solid foundation to give you a smoother and faster computer. The highly improved multilingual user interface allows the software to be used in all major languages, while automatic backup and safety features make the program very safe to use.
jv16 PowerTools Portable contains awesome performance and user interface improvements to offer its ever expanding user base an elevated level of Windows performance, security and control. The benchmark test covers 133 different software products claimed to make Windows PCs work faster.
The Best Tools for Windows included in jv16 PowerTools:
Clean and Fix my Computer
. Finds and takes care of registry errors, unneeded registry junk, unneeded files, left-over temporary files, unneeded log files and much more. Everything in one go!
Fully Uninstall Software and Leftovers
. Lists and helps you to remove any software installed to the system, including left-over traces of old software you cannot uninstall by normal means.
Control which Programs Start Automatically
. See exactly which programs and DLL files start automatically with Windows and disable the ones you don't really need. Makes it very easy to speed up the startup time of your computer.
Speed up Computer's Startup
. Allows you to easily apply tweaks to Windows in order to improve its performance.
Immunize My Computer
. Easily block access from your computer to known malicious websites in order to improve your safety and privacy. Allows you to block adware and spyware by automatically modifying the Windows hosts file.
Decrap my Computer
. Allows you to easily mass uninstall software from your computer. This is especially handy for un-bloating new computers by removing the pre-installed software bloat that come with almost every new computer.
Other Awesome System Utilities for Windows included in jv16 PowerTools:
Find and replace data inside files Find and replace data from Windows Registry Merge files Split files Remove files on reboot Wipe file and many others
What's NEW:
Key Changes:
Major improvements to the accuracy and safety of the System Cleaner. The new generation takes the Windows cleaning and fixing experience to a whole new level. Major improvements to the user interface. The program is now easier to use and the user interface contains more useful information. Major improvements in the overall stability and performance of the program. Since the last version, we have spent hours and hours in testing to ensure jv16 PowerTools performs with the highest level of quality in any possible systems.
Feature Improvements:
Major improvements to the safety of System Cleaner, especially relating to ignoring data of installed software. Major improvements to the responsiveness and overall smoothness of the UI. Major user interface improvements in both how the overall user interface looks like, but especially how easy it is to use. Entirely rewritten hard drive information area in the Dashboard now shows more detailed data. Highly improved Settings window user interface. Reduced the CPU usage of the Widget. It's now possible to change the order of the dashboard content. And there is also more freedom to choose what is displayed there. The result list columns are now sized based on their content. And, if you don't like this, you can also choose them to be equally sized. This option was added to Settings. Improved the way the Dashboard scales to smaller app window sizes and screen resolutions. Check For Updates now shows the Change Log if a new version is available. Initial Setup information message now better explains what it does and why. Moving the app window will automatically close any currently open message boxes.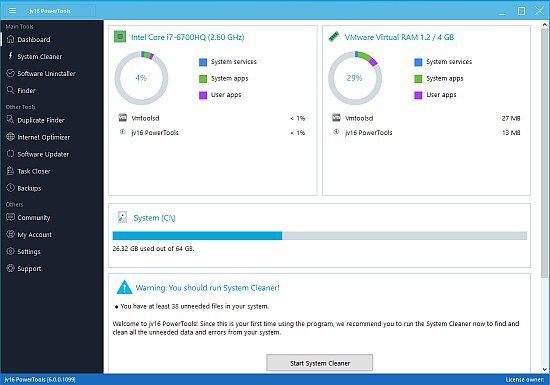 Download jv16 PowerTools Portable